RENOVATION APPRAISAL
Thinking of renovations to a house? What to know the value of your renovation?
Remodeling should first be done with your own comfort in mind. The magnitude and gains of some renovations are more likely to pay for themselves than others, providing they're well done and in keeping with the home environment.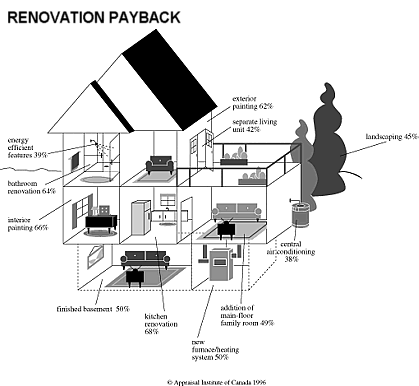 Remodeled kitchens, bathrooms, family rooms, sunrooms, and enlarged master bedrooms with large closets and ensuite bathrooms are all winners. But central vacuum, air conditioning systems, pools, saunas and hot tubs, or combining and reducing the number of bedrooms to less than three should not be counted on for payback.
Do not go overboard when you renovate. Keep remodeling in tune with the style of home you have. Buying a $350,000 suburban home and improving the basement by removing the support posts, installing new beams to create a clear span ceiling. Building a large wet bar, built-in bookcases, entertainemt center, firepace, glass lite cabinates, oak walls, custom low voltage lighting and much more to the tune of well over $100,000 can be a definite over improvement. This style of finishing is the kind you would see and be more appropriate for a $600,000 home. In this case one would not likely recover much of their remodeling investment.
Interior painting, decorating and cosmetic improvements usually provide one of the best paybacks and particularly if you are planning to sell the home.
Remember location, location location of the property plays a major role in any renovation.
Kitchens and bathrooms are a close second but there are many factors that vary the return of your investment.
Order an Appraisal and find out how much your home will be worth when you complete the renovation. You will also need an appraisal to finance your renovation. We can help you!