SAMPLE FORMS
There are forms used in the appraisal industry. Forms are primarily used to provide a quick overview of the information but when more detailed information is required we provide narrative appraisal reports. Here is a sample of some of the appraisal forms that we use:
Full Appraisal Form Report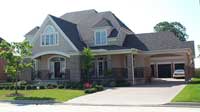 Drive-by Opinion Form Report
DeskTop Opinion Form Report
Relocation Appraisal Form
Residential Land Appraisal


We specialize in residential real estate appraisals, valuations, and consulting in the Greater TORONTO Area (GTA), Ontario Canada. Our Appraisers are designated members of the Appraisal Institute of Canada. We provide a wide range of real estate evaluation, valuation and appraisal assignments for mortgages, employee relocation, accounting, selling, listing, divorce, litigation and power of sale appraisals to Mortgage Companies, Banks, Trust Companies, Credit Unions, Lawyers, Accountants, Real Estate Agents, Financial Planners and Home Owners, For Sale By Owner - FSBO. We service Toronto, North York, Scarborough, Etobicoke, Mississauga, Markham, Richmond Hill, Thornhill, Vaughan, Woodbridge, Pickering, Ajax and Whitby all of which are included in Metro Toronto, York Region, Durham Region and Peel Region. Michael A. Roman, CRA,FRI,PLE,CRF is Senior Appraiser and Real Estate Broker and has testified as an expert witness in residential real estate.
< Page Under Renovation >