BUYER APPRAISAL
Home Buyers, Why do you need a Real Estate Appraisal?
How much does it cost if you overpay for that home or condo?
Could there be a problem when one pays the top price in a market?
---
Could there be a problem when one pays the top price in a market?
Lets take the Jones's, they just purchased a condo for $210,000 in a hot market. Because they were in a bidding war, they paid about $10,000 more than what similar condos were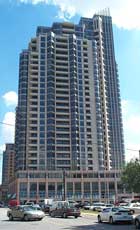 selling for, hence $10,000 over market value. They were banking on putting 25% down ($52,500)and getting a 75% mortgage ($157,500).
The appraiser does not create value or guess at value, he does a market analysis on facts. The interpreted facts tell the appraiser that other condos similar to the one the Jone's bought have sold for and have a market value of $200,000.
Mortgage companies, banks and other financial institutions in Canada lend up to 75% of the lesser of the sale price or appraised value. Since the value based on sales facts was $200,000 then the maximum uninsured conventional mortgage is $150,000. Now the Jones have two options:
a) increase the down payment from $52,500 to $60,000, or
b) obtain an insured high ratio mortgage of $157,500 which has a loan to value ratio of 78.8% (157,500 divided by 200,000) and pay additional insurance premium costs. With a 78.8% loan to value ratio the loan premium cost would be $1,177.50 ($157,500 x 0.75%). This premium cost of $1,177.50 plus interest will be rolled into the mortgage. Therefore the cost of borrowing an extra $7,500 is $1,177.50 plus interest over the life of the mortgage. WHEW! That's a hefty cost!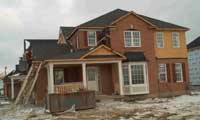 Insured high ratio mortgages
Sample Table of Insurance Premiums
Loan to value ratio
Premium
Up to and including 65%
0.50%
Up to and including 75%
0.75%
Up to and including 80%
1.25%
Up to and including 85%
2.00%
Up to and including 90%
2.50%
Up to and including 95%
3.75%